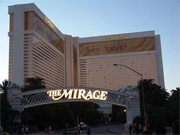 Vegas is also a place for families. You can take your children to some great attractions and go to some wonderful shows that everyone will enjoy. As the parents may want to go out for a night on the town and do some gambling, there is plenty to do during the day with the kids. That is why it is good to find family oriented hotels in Vegas that everyone can enjoy.
The MGM Grand makes for a great Vegas hotel for families. There are 5 swimming pools, a lazy river, 3 whirlpools, and so much more that the family can enjoy.
You also have the Monte Carlo that offers 3 swimming pools for the kids. This is a very kid friendly hotel. There is also a 400 foot easy river ride that everyone can enjoy. You can just sit back and relax.
And there is also the
Mirage
. You've probably heard a lot about the Mirage, but you probably haven't heard how family friendly it is. You can lounge by the pool and enjoy everything that it has to offer.