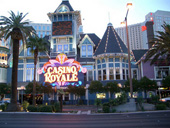 It is important for you to find cheap hotels in Vegas so that you can gamble. Not everyone going to Vegas is packing large sums of money. They just want to see this great city, see some shows, and do some gambling.
Here are a few cheap hotels you will encounter in Vegas:
Casino Royale on the Strip – This is a small casino with 152 rooms available. People have been known to stay at this casino hotel for as low as $29 per night.
Sam's Town – This is located on Boulder Highway. You can stay here in the middle of the week as low as $39 per night and weekends start at $59 per night.
Imperial Palace – This is also located on the strip and has midweek prices starting as low as $35 per night and weekends as low as $55 per night.
The Fitzgerald Hotel and Casino – You can stay here for as low as $29 per night if you stay during the week. The weekend rates are as low s $49 per night.
You may notice a pattern that the hotel casinos tend to have lower rates. So make sure you check out the casinos with hotels to find great deals.